Are you looking to gain a little peace of mind by proactively and automatically managing your printer fleet? In our fast-paced world, it has become easier to manage and monitor a fleet of printing systems with a Managed Print Services (MPS) solution. But where do you start and what methods can you use to implement this solution easily and efficiently? Here are our five steps for a successful implementation!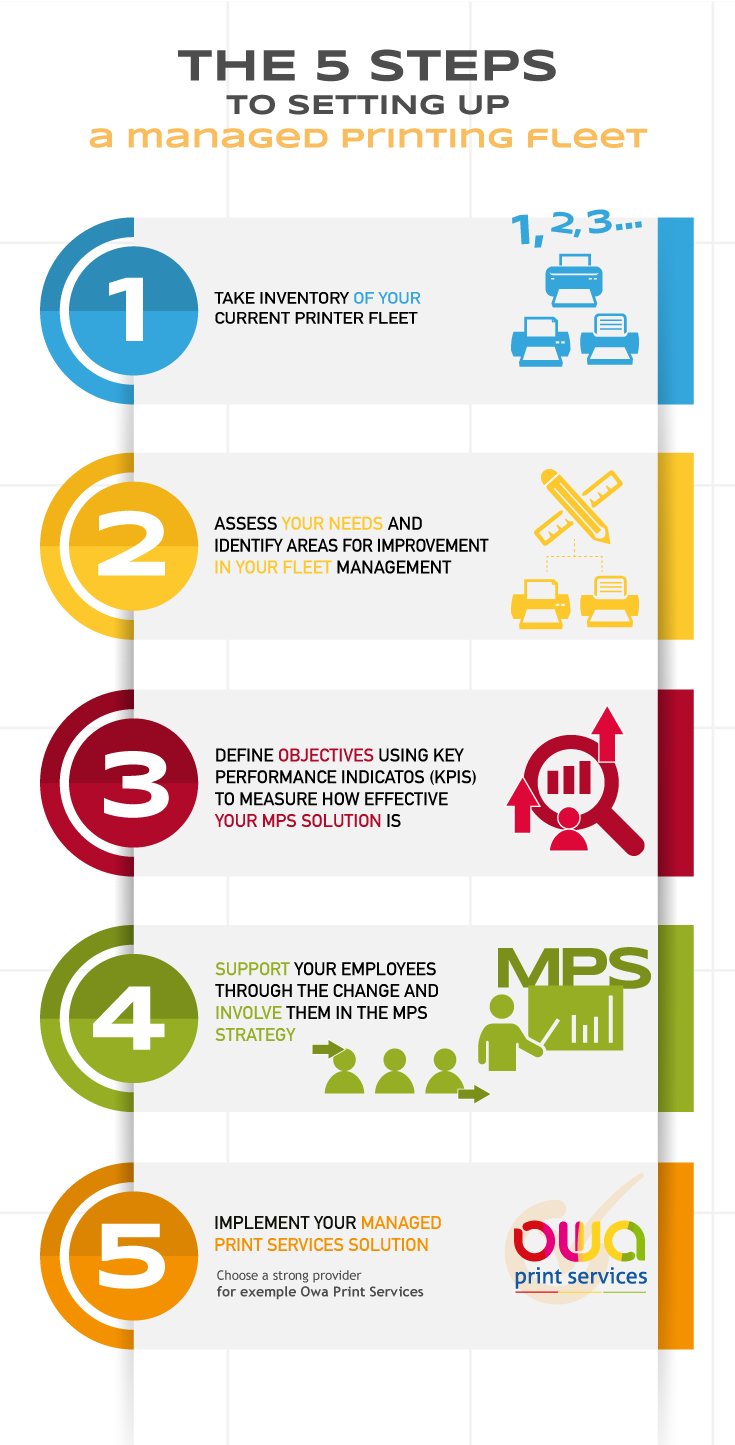 STEP 1: Take inventory of your current printer fleet
If you wish to fully take advantage of an MPS solution, you first need to take inventory of your printer fleet. In order to ensure its effectiveness, you need to be aware of the current state of your company. Therefore, you need to ask yourself the right questions:
- How many printers and photocopiers are in my printer fleet? What models are they? Are they different?
- What are our printing behaviours and habits? How much do we currently print? Do the users need to print in colour?
- What are the costs (e.g. renting, maintenance, consumables, etc.)? You should also consider the hidden costs: see the article titled "What are the hidden costs of your printer fleet?".
The idea is to map out all the current information regarding your printer fleet.
STEP 2: Assess your needs and identify areas for improvement in your fleet management
This first assessment will enable you to better understand your needs and identify the areas for improvement. It will help you to choose a bespoke solution suited to your printing volume, existing equipment and requirements. Customising your solution is necessary to find the right balance between your company's needs and the solutions implemented in the roll-out of your MPS.
STEP 3: Define objectives using key performance indicators (KPIs) to measure how effective your MPS solution is
If you are looking to measure your solution's effectiveness, we recommend defining precise objectives using KPIs from this moment onward. For example, if your objective is to reduce your printing costs, you need to compare your current costs, including hidden costs, with the costs of an MPS solution. You can also use organisational indicators (e.g. the number of people involved in managing the fleet, the amount of time spent managing consumables, etc.), as well as indicators related to compliance with the MPS solution or to perception (e.g. the connection rate, satisfaction surveys, the level of awareness around the solution, etc.).
STEP 4: Support your employees through the change and involve them in the MPS strategy
Implementing a Managed Print Services strategy can lead to a number of changes in your company. It can have an effect on the tools you use and even on the way you work. As with any change, it can cause disruptions and lead to resistance from your employees. To prevent your employees from impeding the solution's implementation, you need to share your strategy with them and involve them in the improvement process so that everyone will adopt the solution. We also recommend providing comprehensive documentation for any future processes and offering training courses to better support them through the change.
STEP 5: Implement your Managed Print Services solution
Now that you have taken inventory of your company and identified your needs and objectives, you are ready to implement and roll out your new MPS solution. For this, we recommend seeking out the assistance of a service provider which will take into account your specific needs and adapt to you and your way of working. Choosing a service provider with solid methods and a proven approach is the key to successfully implementing a Managed Print Services solution.